RECENT LISTENING #9
Windy & Carl, Jim White & Marisa Anderson, Wombo, Scott Foust, Sic Alps, Neil Young, ESSi, Wingtip Sloat, Cocteau Twins, Stephanie Dosen
WINDY & CARL Allegiance and Conviction (KRANKY) This album rules. And it's only 6 months old. Windy & Carl are BACK, y'all. I'm just kidding, they never left, but they do take their time; their last 'official' release (We Will Always Be) on their 'primary' label (Kranky) was in 2012. I don't think they tour at all, just stay at home recording music and running the record store they own, Stormy Records in Dearborn, Michigan. Lina and I went on a road-trip there once, way back in 2002, to see Windy & Carl play live in the store, with special visiting opening act Charalambides. Incredible, beautiful show. Windy and Carl worked the counter, except when they were setting up and playing, and now it's eighteen years later, and this new album, my goodness. It's beautiful celestial drone, like their music always is, but with a particularly dark and driven edge to it as well, which seems really honest about the times we live in. The earth is in this music, and the earth isn't doing too well, and neither are we. I don't remember Windy's singing being this deep in pitch, this grave in tone. So the album is already crushing me, and then the sublime 9-minute third track "Moth to the Flame" (sung by Carl) gives way to the fourth track "Alone," another very heavy Windy vocal, which crushes me more, and when she stops singing halfway through the track for a long instrumental coda, it somehow gets more crushing still, a searing bliss-out drone torn asunder by some of the most chasmic guitar moans I can remember in a good while. The next track "Will I See the Dawn" is like a solo electric piano & reverb piece, instrumental, no vocals, so you'd think it'd be something of a relief, but nope: it's just as crushing. Especially with that title. Crushing song, crushing album. (NOTE: Image above is a screen grab from YouTube.)
JIM WHITE & MARISA ANDERSON The Quickening (THRILL JOCKEY) I have to admit it's great to hear Jim White playing drums outside of the confines of the Dirty Three. I'm sure it's a controversial and possibly incorrect opinion, but that band bored/bores me to tears. (We can chat about it later, and you can play me your favorite Dirty Three tracks. We'll drink a couple whiskeys, and I'll agree that every song you've played is excellent, because they will be. I'll tell you how I saw the Dirty Three live once, in the mid-90s, before I'd really heard any of their records, and it was an honestly amazing show. They were on fire, they were drinking, I was drinking, it was at a swank ballroom in San Francisco called Bimbo's, Low played first… they were a great band that night, for sure. But they're a great band that kinda does just one great thing over and over, and the more I heard their records, the more it just sounded like one slow dirge after another, each with its own lugubrious violin melody, no matter how creatively and valiantly Jim White subdivided the beat.) Just listen to track one on The Quickening, Anderson and White immediately going full-flight, like an eagle that had been locked on display in a dank windowless cocktail bar for 20 years, finally set free, now soaring on thermals high above vast landscapes. Somehow I feel this imagery might even be reflected in the cover art, though I did not look at until after writing this review. #RecordReviewsWrittenEntirelyDuringTheFirstSong #ThereforeMostlyAboutADifferentBand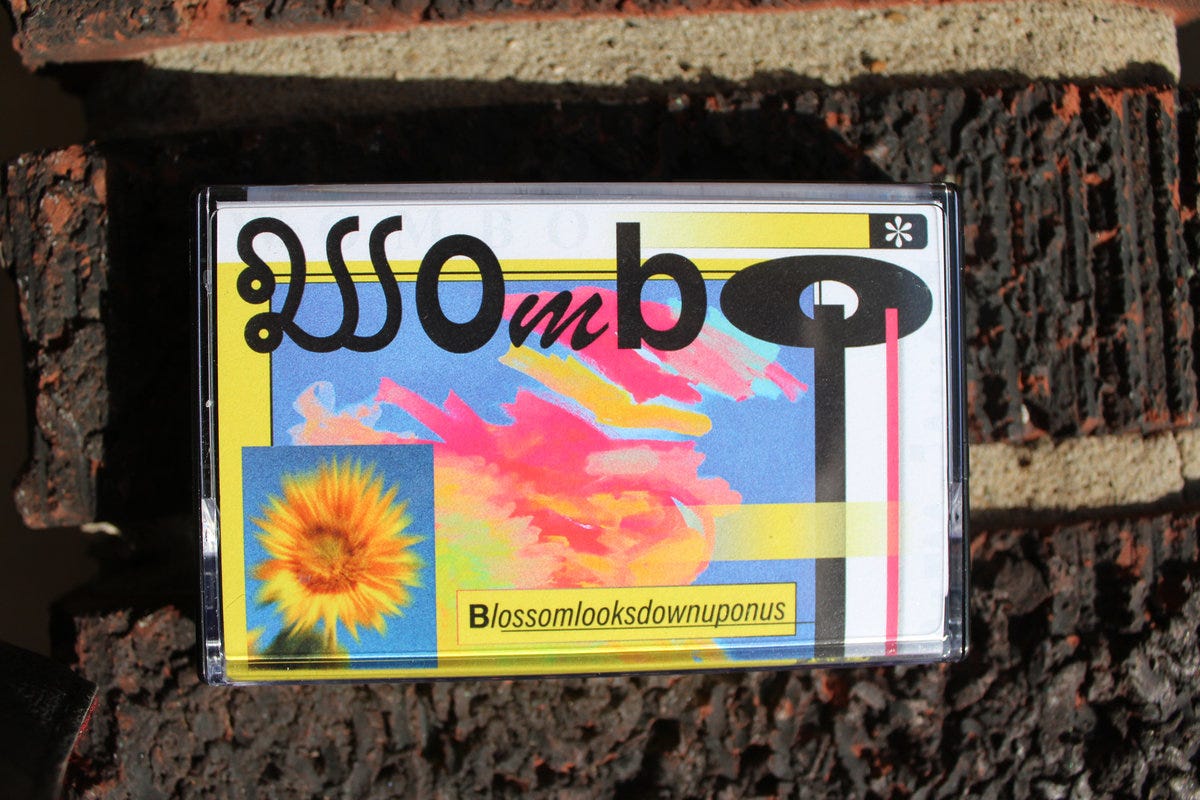 WOMBO Blossomlooksdownuponus CS (SOPHOMORE LOUNGE) I'll be honest, I wasn't even going to put this in the cassette player because the cover design and band logo were so wonky, but finally after a couple weeks I relented and boy I'm glad I did. Because ultimately it's not about the graphics, it's about The Music, and This is some pretty uncanny post-punk female-fronted guitar trio Music. In some ways it reminds me of Thinking Fellers Union Local 282. It also reminds me of that band eSSI (also reviewed in this edition), but with vocals more like (thee) Elizabeth Fraser. Even though Wombo is from Louisville, KY, as is the label, our old friends Sophomore Lounge. And I'm a little surprised to learn more, and see that Wombo really is just a guitar/bass/drums trio, with bassist Sydney Chadwick also the lead singer while playing intricate lines, and guitarist Cameron Lowe and drummer Joel Taylor both quite creative on their instruments as well. I had pictured maybe at least a quartet after first listen, some kinda Crimsonoid Suburban Lawns kinda thing, that can still dip into Mediterranean lounge pop as needed. Crazy band!
SCOTT FOUST The Fighting Sensualist 1981-2002 (PINEAPPLE TAPES); FOUST! Space Sickness CDR (EH?) Once upon a time, almost twenty years ago in 2002, I spent about eight days of my life travelling and performing on a short but very busy and heavily obscurist noise rock tour. One of those nights in particular, I was riding shotgun in our rental van with the underground music luminary who was tour managing the whole adventure. He was a very good driver in the terrifying Neal Cassady mold, blasting down unfamiliar Louisville, KY streets (that town again) while blasting The Fighting Sensualist 1981-2002 on the van stereo, a cassette compilation of music involving Scott Foust (Idea Fire Company, Anti-Naturals). Foust was in a lot of great unknown bands back in the 1980s worldwide post-punk explosion, and they're all on here, projects like Y Front, Red Light, The XX Committee, Stabat Mater, The Story of Failure, and Anschluss (that's just Side A, most of the bands from a microscene of art-student visionaries Foust met at the University of Pittsburgh). I'll never forget that Kentucky van ride, as Side A of that tape blasted, and I was amazed by every single cold and driving electro-rock track, one after another as we zoomed around a strange city half-lost on a pre-show beer run. Vibing on the punk energy crossed with machine rhythms, I joked that "he should start a new project and call it…. Foust!" A pun, because the music we were listening to had some of that same spirit and texture as the German band Faust, and in fact we had blasted the German Faust's self-titled debut just a few hours earlier that same day, possibly in a completely different city, on that very same van stereo (where the first half had sounded like incredible contempo harsh noise). Well whaddayaknow, flash forward a few years later to 2006, when Scott Foust recorded some solo music that he would later release in 2011 under the name… Foust! (Exclamation point included, as it was when I conceived of the band name in that rented tour van.) But it doesn't sound as much like Foust's Faust side, this is more Foust's solo side, sparse machine music, all instrumental, ambient/noise loops. Tracks like "Astounding Data" and its mid-disc followers "Artificial Recreation Forest" and "The Future Is Now" are all based on harsh and relentless repetition, much less of a rock band vibe than even Faust (who were already very anti-rock in a lot of ways).
SIC ALPS Pleasures & Treasures CD (ANIMAL DISGUISE) Ah, the mid-late '00s, a time when I kept up with each new Sic Alps record as it was released, for at least 3 full-lengths and lord knows how many EPs, before realizing the band had already achieved some sort of platonic ideal with their very first release: the Pleasures & Treasures CD (2006, on the Animal Disguise label). There's just something raw/right about Pleasures & Treasures, the sound of a new band waking up and breathing deep, still filled with wonder, really noisy, loose, sloppy, and alive. Not everything they do is a tune, exactly, but I love the way they kinda leapfrog across big pools of noise to get from one tune to another. I feel something changed after this album, and they never quite got back to this particular thing. It was like they started by carving and wrestling a sound out of real-time chaos, then quickly realized they had created a group sound they could repeat, which sent them trying a little too hard to work backwards to it. Just theories, I'm obviously not in the band or anything.
NEIL YOUNG Homegrown (REPRISE) Prepared for release in 1975, shelved until now. I couldn't get into it when it was on share-blogs in the '10s, and I can't get into it now. A lot of unknown and frankly unmemorable songs, and even the best songs ("Love is a Rose" and "White Line") I already like better in various versions on various live boots, like The Bernstein Tapes and A Perfect Echo. I just don't like Homegrown, and I almost always like Neil Young very much, especially 1970s Neil Young. Truly, this is the first time I've ever disliked a Neil Young album that we're supposed to like. No wonder Rick Danko immediately told Neil to release Tonight's the Night instead (when he heard the two albums back to back at a 1975 party in a Chateau Marmont bungalow).
NEIL YOUNG Are You Passionate? 2LP (REPRISE) I sometimes feel like the only deep Neil head who loves this 2002 release, other than Matt "MV" Valentine, who I swear once commented on a Facebook thread that he really liked this record's "talking guitar" solos. I love 'em too, and I think it's not just because Neil Young is awesome at guitar solos, but also because the band is so good at backing him up, laying down a groove that makes so much space and time for a soloist, and no wonder, because the band features two of the original MG's: Booker T. on organ and Duck Dunn on bass. (A drummer named Steve Potts does just fine in the Al Jackson Jr. role, just fine indeed.) There are a few songs on the album that are just okay, like the admittedly good-not-great "You're My Girl," and Neil does kinda favor draggy (cough stoner cough) tempos, but the band almost always saves the day and lifts up these low-key shaggy-dog tunes into greatness. Like, how can you resist "Mr. Disappointment"? Total heartbreaker, with a beautiful guitar solo (this time the guitar doesn't talk, it sings). "Differently" gets more of an MGs groove cookin' up again, with delightful background vocals (the low-key R&B backing vox are NAILED throughout the whole album), and a sweet raveup at the end… but actually, I didn't come here to tell you about Are You Passionate? because of any of these Booker T. songs. I came here today because of one song on the album, and I haven't mentioned it yet, because it's the biggest (but not only) anomaly: the almost 9-minute "Goin' Home," which leads off Side C on the 2LP vinyl version, the only track on here to feature Crazy Horse and not the MG's as Neil's backing band, and OH MY GOD it's a great Neil Young & Crazy Horse song, even if it is from 2002, a full 33 years after their debut LP Everybody Knows This Is Nowhere. No seriously, that's all I came here to tell you: "Goin' Home" is a certified good 'un, and like nothing else on Are You Passionate? POSTSCRIPT: The other big anomaly is the reason I don't think anybody says they like this album: it contains "Let's Roll," unanimously considered one of Neil's worst moments, sounding pretty shoehorned in, for admittedly very topical reasons. Let's just say it's no "Ohio," let alone United 93 (2006, d. Paul Greengrass). I don't care, I often skip it, and you can too, though the main riff is actually very funky, and might be great with different lyrics.
ESSi Vital Creatures (ESSI.BANDCAMP.COM) It's good to hear a brand-new weird guitar rock band again. I thought weird guitar bands had almost completely gone away, fully replaced by weird electronic projects, or something. I mean, you still get guitar players, but almost never a weird guitar band anymore, with a full-time bassist/drummer rhythm section. On top of that, it's good to hear a weird guitar band that is weird but not ALWAYS LOUD. A band's music can be many things — frantic, racing, intense, scary, angry — without having to be LOUD. There's gotta be texture, pauses, long stretches of time where anything at all is happening besides a pummeling power trio riff. Maybe this is what always ends up getting called "Beefheartian": an aggressively weird guitar band that isn't necessarily always loud. ESSi also have a female singer, which is a plus.
WINGTIP SLOAT If Only the Hatchery CD (VHF) Oh my goodness, speaking of weird guitar bands. When I came across Wingtip Sloat in the 1990s, they just seemed one of many "angular" post-hardcore indie-rock guitar bands that were active at the time, albeit an excellent one, and even more obscurist than their peers, with their sceneless exurban Virginia pedigree, and an almost satirically obscurist indie-rock nonsense band name. Were they even mentioned in Jon Fine's Your Band Sucks? If they were, maybe they were just part of a long list of further examples, with no additional commentary. Now, listening almost 25 (!) years later, it's hard to believe this band actually existed, that they would ever put in the work, that this music could even be composed and rehearsed. Surprisingly chock-full of killer riffs, constantly flirting with noise and aggression but never letting it take over, stopping and starting unpredictably, with abundant lyrical/melodic hooks that have stayed stuck in my head for decades, like when "Sundowner's 90 Mile Pilot" starts with the crooned "Remember… when you could stop time?"
++++++++++++++++++++++++++
And I leave you this time with a couple more Cocteau Twins tangents, after Wombo reminded me of them earlier in this column; first of all this version of "Carolyn's Fingers," live on the Jools Holland TV show, and I find it frankly glorious. Yes, as lots of the commenters will tell you, Ms. Fraser sounds like she's having trouble hearing herself, and is possibly going off script in frustration, but I'm like… maybe her vocal on "Carolyn's Fingers" was more of an improvisational approach than we realize? Regardless she still sounds amazing, with a true fighting spirit, and my god, the band: a drummer, a percussionist, and a wall of four guitars playing true shoegaze bliss.
And finally, here's a version of that old Harrisong "Within You Without You" by one Stephanie Dosen, from right over here in Wisconsin, who had a solo "Folk, Ethereal" music career in the mid-2000s, when she was signed to a label "run by former Cocteau Twins's multi-instrumentalist Simon Raymonde," and then joined the heavy British band Massive Attack as a singer in 2008, doing a fine job filling the very large shoes of Elizabeth Fraser as lead vocalist on "Teardop." Just before that, coinciding with her solo debut album A Lily for the Spectre, she made this track for a Mojo magazine compilation of contemporary Sgt. Pepper covers (my tougher-guy friends will say it sounds like Sarah McLachlan but what's wrong with that, I think it's great):