RECENT LISTENING #8
Home Blitz, Cassandra Wilson, the Shangri-La's, Hound Dog Taylor's Hand, Circle Pit, Pink Reason, Beautiful Swimmers, Decimus, Spiral Wave Nomads
HOME BLITZ All Through the Year 12" EP (SOPHOMORE LOUNGE) Goddamn this is a great record. Perfect followup to Foremost & Fair, possibly even better. Granted, you might already have to love Home Blitz to agree, which is to say that you already love unprecedentedly fey power pop that is equally influenced by both Game Theory (the band) and ren-faire folk (the genre), constantly spiraling at you with the speed of HC punk, fully filtered through the even more singular vision of one Daniel DiMaggio, our young aesthete from the periphery of Princeton, New Jersey, America. For example "Final Decay," the breezy power pop masterpiece in the center of Side A, in which DiMaggio temporarily abandons the song for a spoken-word breakdown/tangent over four-on-the-floor house beat, before coming back for the big rousing chorus ending. Or side A closer "What I Say I Mean," which just might be a one-man "Black Angel's Death Song" for the 21st Century, but with more Bach and would-be harpsichord, which I guess makes it a "Black Angel's Death Song" for the 18th Century too. And then there's "Real Green." Good god, is there ever "Real Green," the song that closes the mini-album, and takes up all of Side B. I don't even know what to say about this brain-spinning extended romance, other than what the one and only Max Milgram writes in the album's press release: "The B side is a single dense and lusty piano/violin epic that's a lunatic version of Shirley Collins and goes from jaunty to wistful to spiteful and culminates in "Sloth"-ish folk rock triumph." I don't even know what band/record he's referencing when he says "Sloth"-ish but I agree 100%.
CASSANDRA WILSON New Moon Daughter CD (BLUE NOTE) It seems appropriate that the one time I visited the Amoeba Records in Hollywood, during a 2018 vacation, and browsed for almost an hour, the only record I found worth buying was a major-label contempo-jazz neo-soul album from the hip globalist 1990s, very Hollywood indeed, considering the neighborhood's role in the mass-market culture and lifestyle industry. Even more symbolically, the only reason it was worth buying was that it was in the CD clearance bin for $1.99, with at least 5 more copies for the same price right next to it. It was a very disappointing record-shopping experience overall. I had been to the Amoeba locations in Berkeley and San Francisco back in the day, and those stores were so much better. Maybe it's a cultural difference between the Bay Area and Hollywood, the Bay naturally more removed from that whole culture and lifestyle industry, but more likely it's the difference between pre-internet and post-internet. The last time I was in one of the Bay Area stores was in the mid-1990s, the internet still barely anything at all, and I would find well-priced great records at Amoeba by the handful, all kinds of classic jazz/rock/folk/punk essentials for much less than what a CD would cost, but also picking up crazy records from the 90s noise underground, your Merzbows, Masonnas, Sun City Girls, Caroliners, basically all the stuff written about semiannually in Bananafish. As it happens, this Cassandra Wilson album was released in 1995, and I knew who she was at the time because I read magazines like Downbeat, and worked in a mainstream record store that had a well-stocked jazz section (there's that culture and lifestyle industry again — where would we be without it?), but I wouldn't even have bought it for $1.99 now, had I not semi-recently heard her sublime album-closing cover version of Neil Young's "Harvest Moon" via YouTube's "up next" algorithm, which impressed me enough to listen to the whole New Moon Daughter album on Spotify and yeah, it's a good album. In fact, I feel like I should love it, because it's straight-up tone-poem jazz-folk, in the style of Spirit of Eden, right on back to Happy/Sad and Astral Weeks and What Color is Love? But alas, it kinda also misses the mark. Sometimes the band is so mellow they seem like they're sleeping through it. Cassandra has a beautiful rich voice and she really is a major heir to Nina Simone for that rare tenor vocal quality, but she's not really a pusher or a prodder of the melody, so the soloists don't always have much to play off of, which doesn't give the rhythm section much to play off of, which never creates the necessary feedback loop to make the music come alive. (Nice violin solo on track 7 though, a cover of "I'm So Lonesome I Could Cry." It's by one Charlie Burnham, who used to play with James "Blood" Ulmer and a bunch of other people you and I have heard of, like Living Colour themselves.) Lots of other interesting cover songs on the album too, but Wilson did write almost half of it (5 of the 12 songs), including a real nice original tune called "Solomon Sang." I do like this album, and I've listened to it quite a few times now, trying to love it. Funny though, true story, every time I do listen, "Sweet Love" by Anita Baker starts going through my head over and over afterwards, instead of any of the songs on here. It's because Cassandra and Anita have quite similar tenor voices, but Baker is the one with the stronger hooks…
SHANGRI-LA's "Out in the Streets" (RED BIRD) Surely I've told you by now how obsessed I am with this song. Barry/Greenwich composition from 1965, with amazing Shadow Morton production. I mean, you've heard "Leader of the Pack" right? That's also a Shadow Morton production. I think he's kinda underrated, like Phil Spector crowded him out of the producer spotlight a little bit.
HOUND DOG TAYLOR'S HAND s/t LP (ABDUCTION) I was saying in a previous volume of this very "Recent Listening" column how not too many bands today are carrying that blistering ethno/jazz/punk/hardcore torch (of the mystics) that Sun City Girls lit up in the 1980s. I named a few who are: Sunn Trio from Arizona, and Ak'chamel from Houston, and Mako Sica from Chicago. I should've also named Hayvanlar Alemi from Turkey, and it turns out this band too, Hound Dog Taylor's Hand from Seattle. Hell, they're even on the Sun City Girls' label, Abduction Records. Their music is entirely power trio instrumental, jazz/punk/hardcore influence for sure, but the 'ethno' is replaced by a more American blues/roots undertow that even verges on 'Appalachian krautrock' at times, with extensions and extrapolations all over the place. The guitarist Jeffery Taylor is in the Climax Golden Twins, who also carry the torch (of the mystics), and the drummer Mark Ostrowski has played in the Wally Shoup Quartet, and I'm sure the bassist John Seman is cool because he's also in a band (I haven't heard) named after a Sonny Sharrock album (Ask the Ages).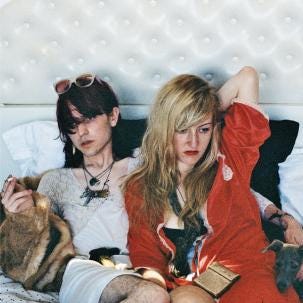 CIRCLE PIT Bruise Constellation LP (SILTBREEZE) Weird band in that they, a drug-dazed male/female romantic/artistic duo are almost exactly an "Australian Royal Trux," as if a popular American franchise had ceremoniously opened another successful overseas location. And yet Royal Trux occupies a wide enough folk form ('weird roots rock'n'roll') that you can have a bunch of worthwhile franchises, and each can have their own slightly distinctive voice within the more general ('rock'n'roll singing and playing') scope of the voice. Bruise Constellation was Circle Pit's 'stateside' debut, released back in 2010 on the Siltbreeze label. I don't walk away with as many hooks as I do from a good Royal Trux LP, but it's still got plenty of swagger, and how can I not keep this LP around anyway, just for its glamorous cover.
PINK REASON Shit in the Garden LP (SILTBREEZE) Shit, cat, this shitgaze record from 2011 called Shit in the Garden is great. Kinda necessary to go with Cleaning the Mirror (2007), the other Pink Reason LP on Siltbreeze, and really the only other Pink Reason full-length, because this one shows more of the 'full band/rhythm section' side of Pink Reason, where Mirror is explicitly solo, raw, alone, naked, etc. (Even if the 'band' and 'rhythm section' style is often done solo by the multi-tracking of singer/songwriter/bandleader Kevin Failure, and even if the standout closing track "You Can't Win" is a stately and sad percussion-free instrumental that is clearly solo multitrack.)
BEAUTIFUL SWIMMERS Untitled CS (TRILOGY TAPES) I remember when this was released in a small cassette edition back in 2015, I could've ordered one off Twitter for less than $10 postpaid, now copies are going for as high as $50 on Discogs, when they go at all (none for sale right now). Well, at least it's on YouTube, two truly sublime 45-minute mixes by the duo of Ari Goldman and Andrew Field-Pickering, the two of whom also ran the Future Times label for a minute back in those halcyon late-period Obama days of inclusive apathy. (And maybe still do, I'm out of the loop.) Like Discogs user "sunshine-recorder" said back in 2015: "One side for the party-goers, the other for the late-night lovers. Taking in worldwide house and techno music, early 90s IDM and street soul mixed up with mellow funk, disco, and soca rhythms, the mix betrays a deep love and knowledge of the music they play…"
DECIMUS Morning and Evening Ragas Vol. 1 LP (DAKSINA) You remember the No-Neck Blues Band… I got so deep into their distinctive sound-world in the late '90s and early '00s that it permanently changed me. It was what I needed to hear at the time, and it was so fully internalized that I haven't really listened to it since. Their various LPs and CDs still sit on my shelves, though, and always will, and I have pulled my personal favorite Live at Ken's Electric Lake out a couple times in the interim… and now in 2020 I'm finally dipping my toe into the solo work that founding No-Neck member Pat Murano has been making steadily as Decimus. I'm always a sucker for a morning raga. Hell, an evening raga too, even if both of the ones here are decisively non-traditional. The instrumentation certainly (haunting and distant synth/electronics), and the note choices surely not in the tradition of any one classical Indian raga, but the spirit (meditative, patient, exploratory, quiet) is traditional enough for me, and quite possibly you too. The silk-screened cover vinyl edition of 100 is out-of-print, but you can get this digitally on Bandcamp any old time.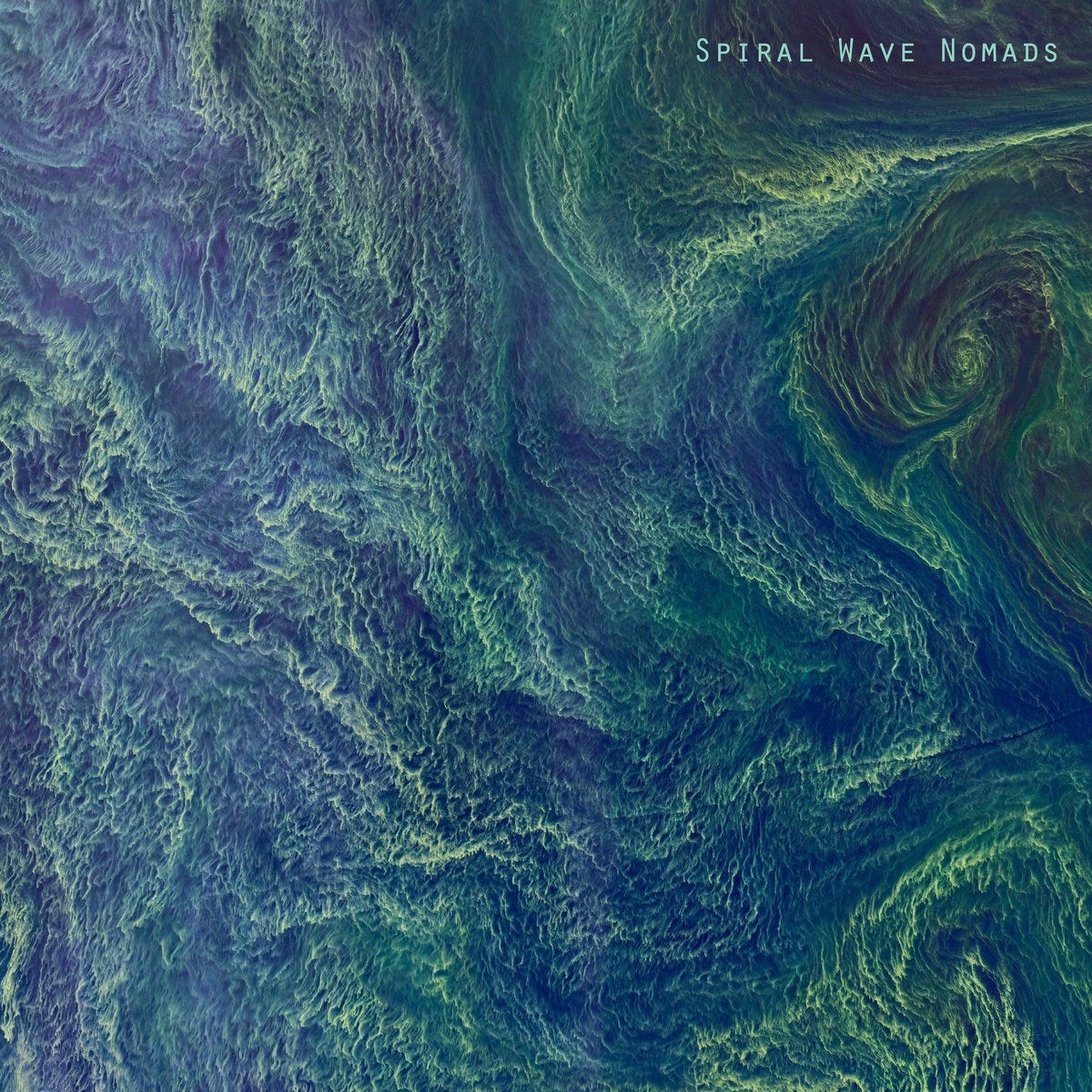 SPIRAL WAVE NOMADS s/t LP (TWIN LAKES) Wow, another lovely improv-styled album involving drummer Michael Kiefer and his label Twin Lakes. I say "improv-styled," because guitarist/bassist/electronicist Eric Hardiman (the hardcore will know him from "the Albany collective," specifically such projects as Rambutan and Burnt Hills) was already home-recording these looped constructs of solo instrumental avant-rock dream-tone, more or less compositions, and sending them to Kiefer, who started improvising on his drum kit along with the tapes, and recording that for his own reference. When Hardiman heard these reference tapes, he thought it sounded like a band, an album, a fully-formed concept, and suggested that Kiefer release it on Twin Lakes, hence this record review. Since then, Spiral Wave Nomads has recorded a follow-up that actually is improvised in real-time, with both of them in the same room. I don't think that's released yet, but this rather lovely self-titled debut is an asynchronously recorded overdub collabo that already sounds like an organically live band, and not exactly like any other dream-tone avant-rock live band I can think of.