RECENT LISTENING #5
Mako Sica & Hamid Drake, Roy Montgomery, Mothers of Invention, Kim Gordon, Sonic Youth, Primitive Motion
MAKO SICA & HAMID DRAKE Ronda 2LP (FEEDING TUBE/ASTRAL SPIRITS) Fell deep into this album the week I brought it home. It's designed that way, or should I say it's designed the "Wu Wei," as the side D side-long jam on here is called, which is the Taoist principle translated as "without action," which in context means something more like "effortlessness." Like when the Grateful Dead say "the music is playing the band" rather than the other way around, which, regardless of whether or not you like the Dead (believe me, no one cares), actually describes any engaged soulful musical performance of note. There is indeed an Eastern/Far Eastern/Taoist/meditative thing going on with Mako Sica, which can't help but remind one of the 1980s heyday of post-punk ethno-hardcore bands like Sun City Girls and Black Sun Ensemble and Savage Republic. I'm not saying Mako Sica is "as good as" those legends, but who else is really carrying the torch (of the mystics) here in the 2010/20s? Maybe three bands total? Sunn Trio in Phoenix, Ak'Chamel in Houston, is that it? (Raw meat to internet rocksplainers, I know. I welcome the flood of hometown suggestions…) Anyway, Mako Sica are definitely carrying that particular torch, and have been a band here in my own hometown Chicago since 2007, even though I've just now heard 'em via this Ronda double LP collaboration with Hamid Drake, which itself came out over a year ago. (What can I say, this is a big city.) Man it's good, dreamy, drifting, and disorienting strings/reeds/percussion/voice/keys/groove/float improv, deeply psychedelic, just deep music in general.
ROY MONTGOMERY double 7" (SILTBREEZE) Antiquated format alert: a 45RPM double 7" released in 1996 by Siltbreeze Records Mach I. I could've gotten all these songs more economically, as they also appear on the great double LP compilation 324 E. 13th St. #7, but there's something magical about this version, the way it comes in a charming miniature double-gatefold sleeve, the way what look like lyrics on the inner gatefold are actually liner notes, and especially the way the 4 songs hang together in mood, ending with the best song of the four, the sublime "German Sister" and its sublime Barbara Manning background vocals, so you can play that one over and over again without any more flipping. (Update: played all four sides again today and actually briefly wept during the opening guitar chords of "It's Cold Outside.")
MOTHERS OF INVENTION Cruising with Ruben & the Jets LP (VERVE) I seriously feel like I need to write an entire book on Frank Zappa, a chronological analytical musicological philosophical whatsis spanning his entire career, but until then I guess I'll just write at least one FZ record review per newsletter. This week it's the infamous Cruising with Ruben & the Jets, and would you believe this is the first time I've listened to this record, even after 35 years straight as an unabashed Zappa head? Growing up listening to his various other LPs, I often wanted to skip the doo-wop tracks, knowing I could be hearing 9-minute extrapolative guitar solos and/or world-class experimental mini-symphonies and/or who knows what else, so the idea of a whole LP of just the doo-wop didn't appeal at all. Until last month, when for the 10th or 20th time in my life I fell deep under the spell of Uncle Meat, spending several days playing nothing but all four sides of that album, over and over and over. This particular time, I was also reading whatever I could about the Apostolic Studios sessions that produced an incredible run of Zappa albums in 1967 and 1968, not only Meat and Cruising, but the superb We're Only In It For The Money and the spoken word sections on Lumpy Gravy. I started to realize that the doo-wop songs peppered throughout Uncle Meat and even Money were part of the same source of Apostolic doo-wop that made up the entirety of Cruising. This was the key that unlocked Cruising for me, because Zappa's production and arrangements at Apostolic were quite honestly worthy of what Brian Wilson was doing with the Beach Boys at the same time, which is to say beautiful and eccentric Californian pop music at its apex (even if, in Zappa's case, recorded during an extended New York City residency). Cruising is a whole album of songs like that, written just as well, performed just as respectfully, produced and arranged brilliantly. Sure, it might be less rigorous than what we Zappaphiles are used to, but at least this once, it was a step that needed to happen. It sounds like Zappa is actually allowing himself to relax and have fun, which means the band could relax and have fun too, so listeners forevermore can relax and have fun, and enjoy all the things that make Zappa great (his breathtaking spacious production, his endless melodic gift, the way he could write, arrange, and produce a beautiful vocal lead performance, especially one by the great Ray Collins) without his nerves and cynicism showing through near as much as in all his other records. POSTSCRIPT: Speaking of the production on this album, you've gotta hear track two "Love of my Life." What in the hell is going on with that drum sound? It's the greatest thing ever, especially for 1968. Shows up again a couple songs later on "I'm Not Satisfied." And by the way, to hear this drum sound, you have to check these tracks out on vinyl, or be careful about what you're getting on YouTube, because Zappa drastically remixed the album for CD in the 1980s, and those are the versions on Spotify. In fact, he did much more than just remix them; he erased the original bass and drums tracks, and had his then-current 80s fusion/muso bandmates overdub new ones. Great players, wrong context. I find this remix 100% unlistenable. Jimmy Carl Black forever.
KIM GORDON No Home Record (MATADOR); SONIC YOUTH Washing Machine (GEFFEN); SONIC YOUTH Sonic Nurse CD (GEFFEN) New Kim Gordon is freaking me out. Was digging Body/Head, already impressed by the fact that Kim was the true avant-garde soul of Sonic Youth, the other 3 guys' projects all being straight-up classic rock in comparison, with Thurston the gnarliest/weirdest, but still quite MOR (#middleoftheroad) compared to the various ditch trilogies Kim has been unleashing. And then along comes her No Home Record, which is the weirdest move of all. People on the internet have been calling it "soundcloud rap," and it's kinda true, with all-electronic backing tracks supplied by co-producer Justin Raisen, who has worked with Yves Tumor and Charli XCX, and Kim doing that thing she's always done, not so much a singer or rapper as an intoner, a declaimer, an incantor, some sort of indirectly direct postmodern urban chant-poet. On the very first track "Sketch Artist," she takes the amelodic whispered husk of a phrase ("And the wind chimes strike/Your dead stare strikes") and turns it into an unforgettable chorus hook while big industrial beats stop and start around her. It's amazing, but is it rap? Second track "Air B&B" is even less rap, her exuberant singing of the chorus "Air B&B!/"Come and set me free!" sounding more like a Free Kitten vocal than anything she's done since, well, the last Free Kitten album, which was eleven years ago. So maybe always different, always the same; either way, No Home Record is incredible, easily one of the best of 2019, and I'll let you discover the rest of it for yourself. And what should pop up on the iPod (album shuffle mode) a couple days later but Sonic Youth's Washing Machine, featuring lots more great Kim songs like the opener "Becuz," with her haunting and beautiful weird vocals, and my god, the memories come rushing right back, how 24 years ago, about 5 friends and I road-tripped in an Econoline van from Lincoln, Nebraska to Minneapolis, Minnesota, to see Sonic Youth play at the legendary First Avenue nightclub. This was May of 1995, and Washing Machine wasn't quite out yet, but they were already playing most of the album in their live set. I still specifically remember them doing "The Diamond Sea," "Junkie's Promise," "Becuz," the title track, and a new Lee song that was probably "Saucer-Like," along with a surprising mix of classics ("Tom Violence"! "Candle"!) and songs from the Jet-Set LP (which I really love… they opened the whole show with "Skink"!). It was an unbelievably great show. A few months later, back home, by the time the album came out in September 1995, one of the road-trip crew had broken up with her boyfriend (who was also on the road trip) so that I could be her boyfriend (awkward, worth it). Needless to say, Washing Machine was a major soundtrack to our courtship. We bought the double LP and blasted it at late-night get-togethers. I still remember the expression on the face of one J. Ripley, sitting on my couch with a beer and cigarette, when he first heard the section of the title track where a cascading guitar feedback wall completely overtakes the drumbeat, his face frozen in mild wonder, slowly forming a beatific smile as the rhythm section finally re-emerges back out of the vortex. Another day that same late summer, I picked my new girlfriend up after she finished her morning shift at the Coffee House. It was a beautiful day and we decided to go on a "date" consisting of taking any street out of town until we were in the countryside. ("C'mon get in the car/let's go for a ride somewhere," but without the menace or malice…) We picked North 27th Street, blasting the college station KRNU, and what should they play but "Junkie's Promise." The road left the modest city and eventually turned from pavement into gravel through textbook Nebraska rolling pasture and farmland. At an intersection, we saw running water and a culvert bridge, and pulled over and laid on the bank of the creek in the sun for what seemed like hours. We got married 4 years after that, and we're still married 24 years later. But enough about Washing Machine, and me, and my wife… how about another, later, SY album, Sonic Nurse from 2004? I was just scanning my CD shelf for some other reason, and happened upon the frankly bursting Sonic Youth section, where the dark burnt orange hued spine of the Sonic Nurse design stood out. One of the great later SY albums, and the peak of their Jim O'Rourke period, I plucked it for some welcome re-listens. O'Rourke was actually in the band for awhile, from 1998 until at least 2004, the year this album came out. He initially played a big role in the band's experimental SYR series (especially on SYR3, SYR4, and SYR5), but also was a full member of the band on three full-lengths, NYC Ghosts & Flowers (2001), Murray Street (2002), and this one, which, to bring it from Jim back to Kim, features two of her absolute very best songs: "Dude Ranch Nurse" and "I Love You Golden Blue."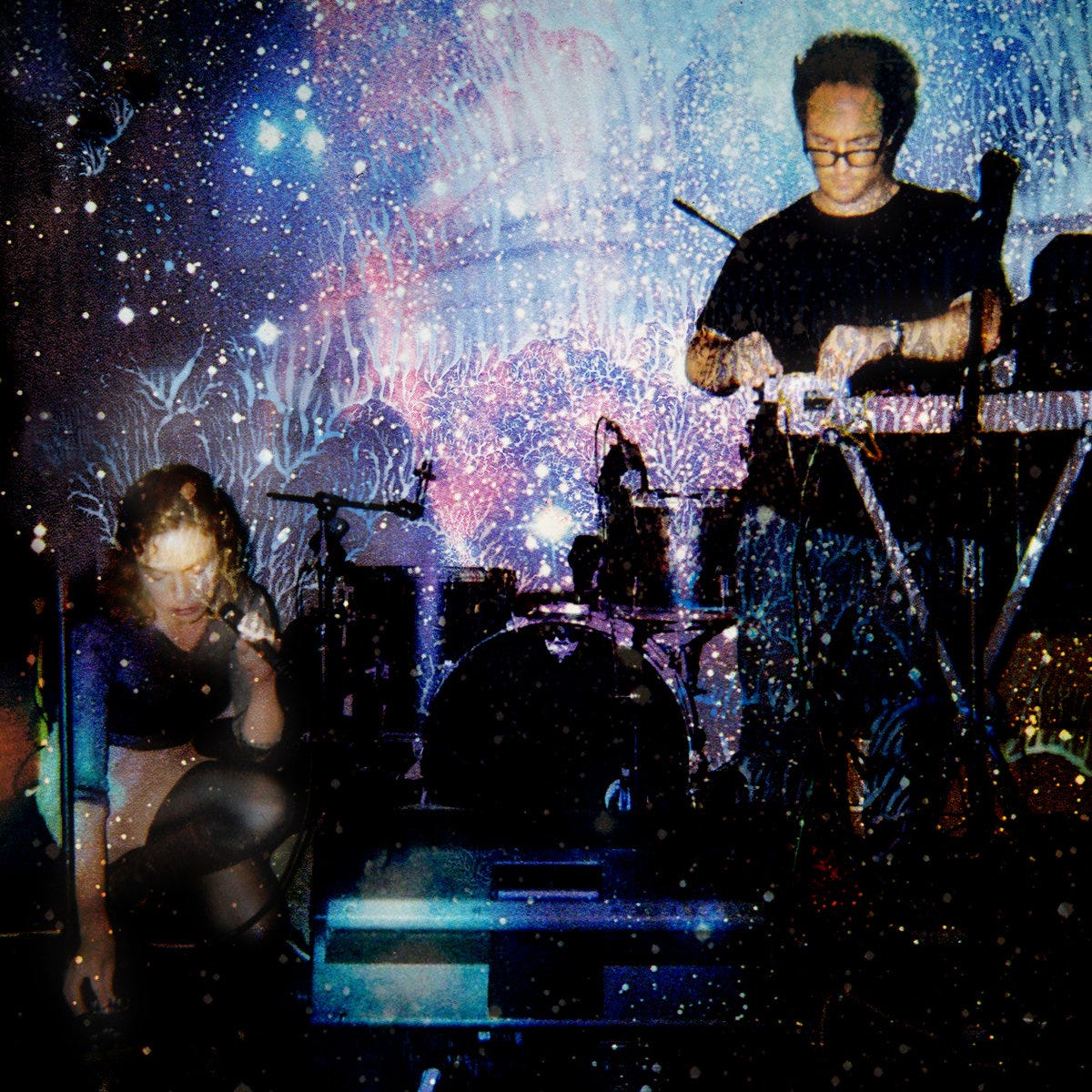 PRIMITIVE MOTION House in the Wave LP (BEDROOM SUCK) If this Brisbane, Australia duo of Sandra Selig and Leighton Craig hadn't made this beautiful album in 2018, I probably would've had to just dream it into existence anyway. It's pure dreamtone after all; he plays a faraway acoustic piano, and she sometimes joins in with perfect dreamy faraway saxophone (flashing me back 12 years ago to the amazing Ara cassette on Rampart Tapes!), or sings in a plaintive reverbed-out voice. And that's it, although when you add in the dreamtoned lyrics that read on the page like ancient Japanese poetry ("If you would like/build your house/in the weight/in the current/of a shadow life"; "Black shapes of mountains/Flowers shrink at dusk"; "Early lake glow/Ray through the falls/Ray through the centre/The world of dogs."), things get a whole lot bigger. They're probably influenced by such 2010s male/female duo dreamtone masters as Blues Control and Peaking Lights, but both of those bands had a much more electronic/rhythmic edge; on this record, Primitive Motion are completely unmoored from such edges, free-floating like a magical new street-grade Hosianna Mantra, making a chapel out of a garage, or a cupboard.