RECENT LISTENING #3
Solange, Royal Trux, Eddie Flowers & the Wax-Lip-Swamp-Dub, Earthen Sea, Marvin Gaye, Excepter, The Lost Domain, Frank Zappa
SOLANGE When I Get Home LP (COLUMBIA) Her 2016 album A Seat at the Table was so good, "Cranes in the Sky" (both song and video), "Junie," "Don't Touch My Hair," the L'il Wayne guest appearance, all the spoken interludes, really a massive statement. Now, here's a March 1, 2019 followup album, and after a couple listens, I gotta say it might be even better. It's one of those 'slightly more difficult' follow-ups, the Neither Fish Nor Flesh to Seat at the Table's Introducing the Hardline According To…, if you will; there isn't a 'hit single' like "Cranes" that stands out; the music is slower-developing, moodier, richer, jazzier, more abstract, the kind of thing that takes time to digest, and I like what I wrote 6 months later on Instagram when the vinyl version was finally released and I was playing it over and over at home (the "you" being addressed here must be my 6-months-younger self): "Expansive 2019 masterpiece right here. If you're too lost in its nested interludes, jazz-prog asides, and TONTO-style synth tone poems to believe me yet, jump straight to a nested slammer like side one closer 'Almeda' (with unreal Playboi Carti guest spot) or the Caribbean-inflected 'Binz' on side two for some immediate re-reassessment. I'm not hearing a single non-genius moment myself."
ROYAL TRUX White Stuff (FAT POSSUM) I think the Grateful Dead and the Clash can be joined by Royal Trux as one of the few bands where, each time they're the subject of a Facebook post, an immediate flurry of haters suddenly appear, which in turn summons a flurry of defenders, and suddenly they're all typing not only their personal opinion, but their entire personal history with the band, perhaps even the sacred moment they "got it" after a time period of "not getting it." There are definitely music lovers who are decidedly not Royal Trux lovers, and I can understand why, because they are a very weird band, harmonically and rhythmically unsound at best, but when they are at their best ("Shockwave Rider," "Back to School," "Jet Pet," "Stevie," all admittedly utterly weird too) they're like nothing else, which is not necessarily a compliment, but for the record: I love them. This album is the first time in 19 years that former couple Neil Hagerty and Jennifer Herrema have collaborated as Royal Trux, so it's pretty newsworthy, and is also surrounded with drama as Neil keeps obliquely tweeting hints that he may or may not be on the record's upcoming tour, that he was barely involved in the recording itself, etcetera. Well, it's not hard to understand what at least some of the drama might be for anyone who attended or has seen footage of one of their reunion shows from the last couple years, because Jennifer seems too drunk/wasted to play, and Neil shows obvious frustration, which is then exponentially detrimental. This hasn't really been pointed out by journalists covering the drama, and I get it, they don't want to accuse Jennifer or take sides, especially with all the well-deserved respect she gets as a visionary musical mind, producer, thinker, and general vibologist. To be Royal Trux, Neil needs her like Mick needs Keith, but she does seem too intoxicated to work with at those gigs. (Then again, don't forget Jennifer's terse summary of Neil's own vices: "Sativa. Green crack. He smokes weed and behaves like an insane person." ) The prospect of a whole tour (especially one that has already been postponed for oblique reasons) (now cancelled - ed.) probably should give one pause. But hey, the album got finished, and has now been released worldwide, so….. how is it, you ask? Well, it's….. good! Neil definitely seems part of it, singing great second vocals on almost every song (definitely on the killer catchy title track opener), and playing a lot of guitar throughout too (forgive me if I'm wrong). As for Jennifer, she remains a visionary, and despite Neil exaggerating his own absence, he has a point that this album is probably largely her vision, more like a 'Black Bananas feat. Neil Hagerty' vibe, which is still more visionary than most other Pitchfork-level rock music in 2019.
EDDIE FLOWERS & THE WAX-LIP-SWAMP-DUB s/t CS (LONG GONE SOUND SYSTEM) Ever since I heard oldhead Eddie Flowers (of Majora Records legends Crawlspace) had a new project in his new Bloomington, Indiana digs called the Wax-Lip-Swamp-Dub, I wanted to hear it. I mean, that's a cool band name, and here's the debut record now (I'm listening on Bandcamp but there is a cassette edition), a weird and satisfying murk-driver where the band absolutely lives up to its name. The backing musicians here are some major Hoosiers like Thee Tyler Damon on drums, John Dawson who is Thee Open Sex, and Eric Weddle of thee Family Vineyard label. Mr. Damon is kinda the MVP here, Return-of-the-Son-of-Monster-Magnetting his way through these jams with big tribal beats, creating immediate solid structure for all the free-forming, giving the rest of the group tons of space to hang back and weave vocal and electronic smoke, steady well-placed weird electronic clangs and atmospheric burbles that dissipate into toxic mist. Eddie raps about stuff like "hanging out down in State Line, Missi-slippy" (probably not too far from the town of "Keep Runnin"), and when he works his way from "looking for summadat Royal Crown sugar water," into "looking for some royal crown," into "looking for some royal clowns," you know you're falling through that Crawlspace back into Slippytown, Missislippy indeed. Someone else on the internet called it "hick Can" and yeah, that should always exist, and as some of sort of vocal midpoint between Damo Suzuki and Tony Joe White, Eddie is the perfect guy to bring it. (See also: Appalachian Krautrock… maybe the Wax-Lip-Swamp-Dub should do a show with More Klementines? Lemme know, I'll definitely drive down to Bloomington for that.) The closing track, a 10-minute drone called "Sruti," seems a bit out of place at first, as the drive of Damon's drumming is gone, replaced by the static droning of, I presume, a sruti box, but Eddie's vocals eventually come in, gibbering and mumbling and croaking in semi-chilled freak-out mode, finally followed by Damon's drums about halfway through, and the whole thing really starts to tie itself together, and take itself home. Ordered! (And get this, I believe this same session is now on LP via the Feeding Tube label. Need to order that too!)
EARTHEN SEA Grass and Trees (KRANKY) The idea of the bassist for rad 2000s punk/funk/world/hell band Mi Ami having a solo drone and minimal techno project called Earthen Sea has always seemed like a promising one, but whenever I'd check in over the years, I just didn't think it was quite transcending its influences. And that's OK, it's a hard thing to do, and influences like Rhythm & Sound and Gas are a really high bar to get over, but Mi Ami certainly got over their own particular high (African/disco/screamo/Can) bar(s), so I knew he had transcendence in him… and here transcendence is, via the latest Earthen Sea album Grass and Trees. The approach has both pulled back and opened up from the easy and dangerous 'submerged beat + morphing wash' formula that minimal house heads get stuck in. Rhythmically and texturally, there are many layers and sub-layers on Grass and Trees… beats inside of beats… multiple planes of there… diaphanous varieties that bring a global Jon Hassell vibe... and you don't have to hear a bunch of muted/treated trumpet all over every track! (I kid, I kid, much love to J-Hass and his forever muted/treated trumpet…)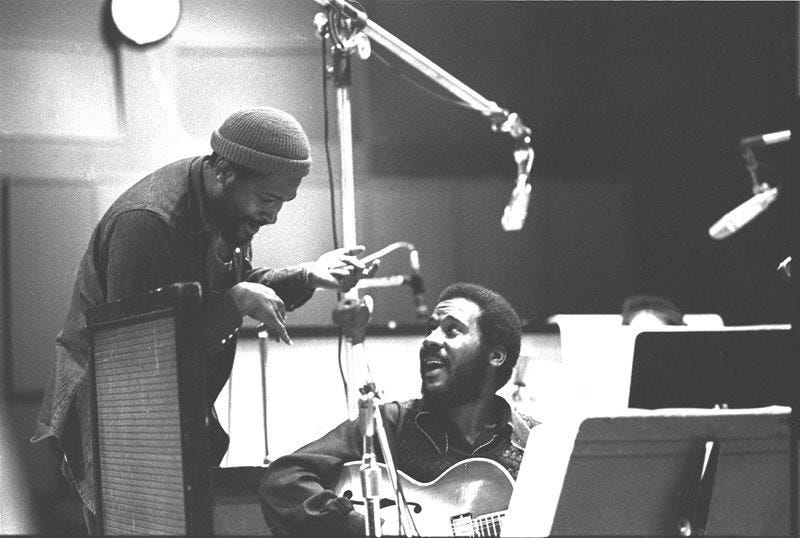 MARVIN GAYE Detroit Instrumental Sessions LP (I WISH RECORDS) An imaginary vinyl LP, on an imaginary label called I WISH, as in "I wish that whoever owns Motown would press an LP of these 13 tracks and be done with it." Sounds like an RSD treat to me… and if it was, it'd be the first time I'd go to a store on Record Store Day since that Grateful Dead Dark Star LP (which was 2012, wow, it has been some time since I've participated). Anyway, these (almost entirely) instrumental sessions from 1971 were first released as bonus material on Disc 2 of the What's Goin' On 40th Anniversary 2CD/LP set that came out back in 2011, but they would make an even better stand-alone LP, preferably with a grimy low-budget cover to match the approach. It's not like new great Marvin Gaye songs or anything, just a jam session, but what a jam session: low-flame, preposterously funky and hard-as-hell late-night instrumental grooves. Gaye apparently on keys (I can't hear him at all, but he definitely does a funny deadpan vocal introduction, quoted in full below), a 17-year-old Ray Parker Jr. and Melvin "Wah Wah Watson" Ragin (the elder at age 21) on electric guitars, and a monster rhythm section of Michael Henderson on bass (already in the Miles Davis electric band at the time, apparently hanging out in his hometown Detroit between tour legs) and Hamilton Bohannon himself on drums. With a lineup like that you can probably imagine what might go down; let's just have Marvin himself explain it to you, as he does in the opening track "Checkin' Out (Double Clutch)":
Well… these are just a bunch of guys from Detroit, name of Bohannon. They can play the music straight, but they thought they'd double-clutch it for you. So you see, they got together — these cats sure are funky — and they thought you might dig a little dance called… the Double Clutch.
You see, these are just a bunch of cats from Detroit called Bohannon & the Cats, so they got together, thought of this funky thang, and wanted y'all to do…. the Double Clutch. Sure is funky.
You see, these cats from Detroit (Bohannon, and Ray, and Melvin) are playin'… the Double Clutch. Now all through this album, we play… the Double Up. Well, by now you should be deep in it. It's all over about now, y'all. We hate to leave, but we got to go.
EXCEPTER "Burgers" b/w "The Punjab" 12" (PAW TRACKS) The Excepter discography is one I will always still be reckoning with… I bought their very first release when it came out in 2003 (an LP called Ka), and have kept up with them ever since, still only having heard maybe 1/12th of their releases, still enough to note that they've grown and changed over the years from how they sounded on Ka… or have they? Maybe it's always been the same, all along… either way, I'll probably always be able to discover a 12-year-old buried track of theirs, in today's case the relentless future-world weird-techno of "The Punjab," side B of a 12" released in 2007 on Animal Collective's label Paw Tracks, that long-ago label of indie-success lore, now out of business, bulk copies of the 12" gathering dust in Excepter's closet, the song readily available on Spotify. Nothing sad about it, music is cyclical, and those dusty records need to get in the hands of disc jockeys, and blasted at subterranean affairs the world over for decades to come. The other song, A side "Burgers," is a wacky novelty hit, or so it seems on YouTube with a video that has over 20,000 views, and 17 comments, one of them describing its "weird adult swim-esque humour." Compared to what I remember of the video, this cut sounds like an even weirder extended remix, like how everything's now super weirder all the time forever…
THE LOST DOMAIN An Unnatural Act LP (NEGATIVE GUEST LIST) Australian noise rock has always had more of that certain depraved-hick something than literally every other country... even the USA itself, with all its depraved hicks running around, is in a pretty distant second place. This particular Australian noise rock was recorded by The Lost Domain in 1990, and I'm over here trying to figure out how it stacks up with what is probably be the most depraved Aussie noise rock I've ever heard (and the competition, everyone from the Slugfuckers to Lubricated Goat, is literally fierce), which is the four studio tracks recorded by Grong Grong seven years earlier. I think the Lost Domain's "Sweet Haunch Woman" is more depraved, actually, although also more free-form, more noise than ur-rock (there is a difference), so it's almost like using noise to cheat, which Grong Grong didn't need to do.
FRANK ZAPPA Shut Up And Play Yer Guitar 3LP (BARKING PUMPKIN) Unbelievably sick electric guitar/bass/drums interplay, I don't care what bias you bring to FZ, or the 1980s, or whatever. This was recorded from 1977 to 1980, and it's exactly what soaring and screaming electric jazz fusion should've sounded like in those years, sonically refined and aspirational 'guitar rock' that's produced as much like Fleetwood Mac as possible, but still quite rock/punk-aggressive, and extremely challenging as far as polyrhythmic interplay goes, whether it's the sheer Manavishnu-worthy heaviness of the first three cuts ("Five-Five-FIVE," "Hog Heaven," the title track) or the more airy clean-toned "Nine Types of Industrial Pollution" style of the side A closer "While You Were Out." Considering how increasingly punching-down cynical his lyric/vocal contributions became starting in let's say 1970, this is exactly the album I would want to hear from him in 1980. I just like him better as an electric guitar soloist, as I really think he created a vocabulary completely his own, fusing classic roadhouse electric blues and R&B guitar strangling with non-traditional tonalities (endless investigations and variations on the Lydian mode, as well as the Hungarian Minor and Whole Tone scales, just for starters). I'd also say that the tonalities he chooses, over the decades that he did it, add up to express a very unique stance of intelligent optimism, the kind of philosophy that words can't express as well as music, because it's a worldview filled with horrible facts, truths, and statistics (nine types of industrial pollution indeed), and maybe when acknowledging these things, words tend towards cynicism while music somehow still tends towards optimism. It seemed that way with Zappa at least… he had plenty of optimism about the world, and society's role in it, but all the optimism was expressed by his guitar. But hey, I guess he did say it with words one time: "Information is not knowledge. Knowledge is not wisdom. Wisdom is not truth. Truth is not beauty. Beauty is not love. Love is not music. Music is the best."