Discover more from BLASTITUDE
The new online home for the music writing of Larry "Fuzz-O" Dolman, aka BLASTITUDE, your #1 esteemed blasting underground tip sheet for #heavymusicinallstylesandvolumes since 2000. If you'd like to read, click "no thanks" (weird, right?)
CHICAGO SHOW REPORT
Axis:Sova, David Nance Group, The Hecks / Hideout Inn / November 16, 2018
(Ed. note: Part two in a series I informally call "concert reviews that are over a year old"… more to come…) Got home from a really long work week, looking forward to the usual Friday night routine of eating, washing the dishes, maybe listening to a couple records, and <old>being completely crashed out by 10PM</old>, until, while eating a bowl of cereal and glumly perusing my Instagram feed, I was reminded that the Axis:Sova and David Nance Group show at the Hideout was happening in just a few hours. The same show I saw listed at least a month ago, and thought "I should really go to that, and like, put it on my phone calendar, even." I hadn't put it in my phone calendar or thought about it again, even once, until that very moment. Sitting there, contemplating my bowl of cereal, I realized that, against my dominant homebound nature, I really just had to go.
Still tried to artfully miss all but the last 2-3 songs by the opening band, The Hecks. I swear it's not because of the band, I didn't even know who they were, it's just that I try to spend as little time as possible at shows. I love music, and I love live music, but I hardly ever know anybody else there, and the longer I stay, the more I drink (meaning 3 or even 4 instead of recommended serving size 2), and I really love my house, and have so much (too much!) to do here already… but I did see The Hecks were on one of Chicago's finest labels, Trouble in Mind, and the blurb on the Hideout website sounded intriguing enough ("twin-guitar"… "tense and beautiful"… "post-punk"), so I decided to at least see a little bit of their set. They were indeed in medias res when I arrived, and had to adjust to the strange sight of all four band-members wearing matching outfits; purple baseball caps and white polos, a style I overheard at least one random audience member describe as "suburban golf dad," though I'm now wondering if it was some kind of tweaked-MAGA dig? Anyway, from like 2001 to 2003 in Chicago, when I first moved here and didn't have kids and was going to weird shows almost every night, I probably would've been more surprised to see a band NOT wearing matching outfits, but that did kinda seem to die down a little as a cultural movement. Although of course maybe the scene never ended, it's just that I left it in 2003. (I did notice Chicago matching-outfit rock pioneer Bobby Conn in the audience, taking in the show… was he there to pass the matching outfit torch to the next Chicago generation?)
It wasn't just the outfits. The Hecks' whole sound surprised me, with how slick and poppy and perhaps even radio-ready it all was. And this was live! Pretty flawless playing from the two guitars and drums, and on top of it, and underneath it, a synth player, who impeccably played both de facto bass and de facto strings/horns/orchestra, at a very fast pace, without missing a note or change. A friend also in attendance (I actually knew two or three people there!) said that the last time he saw The Hecks, they were a 2-piece, just guitarist/vocalist and drummer, and they were "great, really scrappy post-punky, but now they're a quartet and it's . . . a lot different!" Then, at the merch table we noticed the hype sticker on their LP began "Chicago post-punk trio…" What's the next line-up going to be, a one-man band? Hee hee… ha… anyway… now I'm on Spotify, listening to that trio album they were selling (self-titled from 2016, released by Trouble in Mind) and… it's really good! Yes, more scrappy, more minimal, timidly weird instead of brassily weird, all the good ideas and playing they were doing live, but less of that NeoNoWave show-off vibe.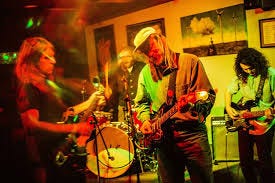 Next up was the David Nance Group, and I've been paying attention to this guy & band for awhile, one, because he's getting some good old-fashioned underground buzz, and two, because he's from Omaha and knows a bunch of people I know, or used to know, even though when I moved away from Nebraska to Chicago he was probably about 9 years old. (Not joking.) I'll admit his music took a second for me to adjust to, because it was so heartfelt and heartland, as in "heartland rock," you know, not just the Springsteen and Petty, but the actual Seger and Mellencamp that's force-encoded into your DNA when you grow up on the Great Plains. (I had the thought, while they were roaring onstage, that young Nance must've listened to his fair share of Z-92 The Rock and 92.9 The Eagle growing up, just like I did. Turn the page…) It's music I have loved, but probably don't ever need to hear again, and have naturally distanced myself from, which means I love all the more how Nance is fearlessly bringing all of that heartland back to the cosmic root, playing the Crazy Horse card and incorporating howling and screaming psychedelic lead guitar over an earth-simple rhythm section. And my god, his guitar solos sounded great live. I can really only think of the Mountain Movers and Heron Oblivion as peers currently on this level of a screaming-lead PSF-scorch approach. (Ben Chasny and Ethan Miller too, in all their respective projects, together and separately, when they're playing electric guitar at least, which isn't always.) Nance has something to say vocally too, howling tales of downbeat Midwestern lives, in a really raw opened-up fashion, and it was all in fine effect for this triumphant set they played to a lot of people at the Hideout Inn of near northwest Chicago.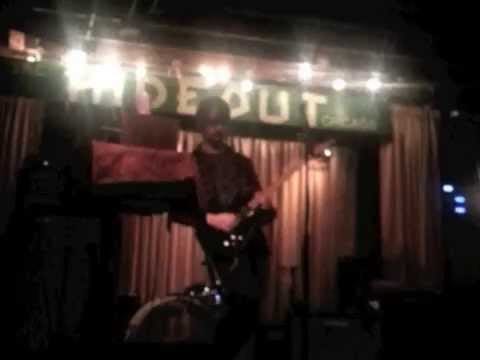 And up last, the record release party-throwers Axis:Sova took the stage. Their new one is called Shampoo You, which is a funny title, and their rock style kind of follows, cheeky drum-machine 70s-referent psych-glam done up with big power-pop hooks. That's simple enough, but the band is good at both the groove and the solo, so they can let the drumbeat ride, with second guitarist/vocalist Tim Kaiser and bassist Jeremy Freeze locking in, and vocalist/guitarist/founder Brett Sova playing flowing leads, another psychedelic guitarist who belongs in the previous paragraph's conversation. On this night he took the baton from Nance, albeit in a more suave mechano-pop setting. They sounded better than ever, and had a packed house, but hey, I'd already seen 'em at least twice before, and it was about to pass midnight, which means after taking in a heavy mid-set slow-burn version of "Same Person Twice," this old guy was heading straight for his home in Pumpkinville. Now I'm listening to Shampoo You, also on Spotify™, and it's a lot like the live show, a cool groovy record. I'm also listening to the David Nance Group's new blaster Peaced and Slightly Pulverized on vinyl, which I bought at the show. Honestly wish I woulda/coulda bought the recs by all three bands.