ANATOMY OF A RECORD HANG
ca. the Spring of 2018
On April 1st, 2018, at an otherwise undisclosed private residence in the Rogers Park neighborhood of Chicago, our subjects A and B sit down, open respective bottles of Larry's Latest Sour Ale, and prepare to listen to as many records as possible. Before anything is placed on the turntable, our subjects find themselves talking about Now More Than Ever, a recent Netflix documentary on the long-running rock band Chicago. Both reveal a strong appreciation for the band's early and mid-period work, with Subject A referring to the possibly apocryphal quote from Jimi Hendrix in which, after attending an early Los Angeles gig by what was then still known as the Chicago Transit Authority (or "the CTA"), he approached reeds/woodwinds player Walter Parazaider and told him, "your horn section has one lung, and your guitar player is better than me." Subjects A and B agree that Hendrix was at least half-wrong, definitely a(n even) better soloist, and inarguably a more breathtaking overall rock'n'roll presence, than original Chicago guitarist Terry Kath.
That said, Kath is inarguably a monster guitarist himself, also a great soloist and an even better rhythm guitarist, not to mention a great singer in the then-abundant 'white Ray Charles' mode. The documentary makes it extremely clear that the band was never the same after Kath's accidental gunshot death in 1978 at age 31. Subject B says he still likes the band's Cetera-forward pop chart hits of the 1980s; Subject A says he would've frivolously agreed before viewing the documentary, where the contrast between the bad-ass Kath years and the later lite-rock shite was so dire (the band essentially becoming a richer-man's Toto, whipping boys for writer/producer David Foster, with Cetera's chiseled-yet-gaunt health-nut countenance and glaring eyeballs an increasingly unsettling brand ambassador) that he changed his mind on the spot.
Yes, the subjects talked about Chicago (the band, not the city) for quite some time, perhaps too much time... though as a topic, the band was "only the beginning," the conversation extending to their enigmatic would-be Svengali, original manager James William Guercio, who stopped working with them in 1977, and did not agree to an interview for the documentary, but does appear (enigmatically) in archival footage. Subject A recommends, and Subject B notes (literally, in his smartphone), the strange cinematic experience that is Guercio's sole directorial effort, the 1973 film Electra Glide in Blue (with Kath and Cetera in small parts as biker-gang heavies). Subject B then brings up his recent discovery that keyboardist Robert Lamm was, both vocally and compositionally, a huge contributor to the classic Chicago sound (lead vocalist on "Beginnings" and "Does Anybody Really Know What Time It Is?," co-lead on "Saturday in the Park," to name just a few). Subject A agrees that he himself, while being familiar with Lamm's work for decades, had only recently learned his name and role within the band, which is the conversational foray that finally starts the evening's music listening, as he goes on to tell Subject B that, in his role as notorious underground music journalist Larry "Fuzz-O" Dolman, he had recently received an email from a publicist promoting the new 2018 Ryley Walker album Deafman Glance, with a link to an advance track called "Telluride Speed." Though Subject A rarely listens to tracks linked in publicist emails, this time he did so almost immediately, right there on his phone, and thought to himself, laying on his couch after the first few (sparse) lines of vocals, "My God, young Walker's gone full Robert Lamm!"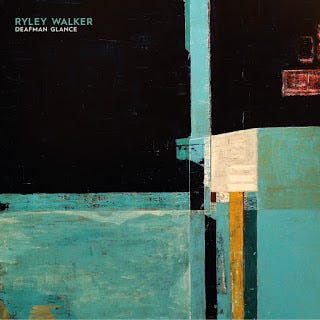 And so, the listening party officially begins, with Subject A recreating the experience, plugging his phone into the stereo, pulling up said email, and tapping on the link again. "Telluride Speed" begins, Subject B quickly pointing out a distinct (Jim) O'Rourkian orchestral pop atmosphere, which Subject A hadn't thought of on his first listen. When the flute kicks in, Subject A muses that Walker's press release quote that the album is "more Chicago-y sounding," might've referred to the band, not the city. After much chortling, and admiration of the sly hurricane guitar riffing that extends the song well past the six-minute mark, the next choice was a natural one: the 1975 solo album by Robert Lamm himself, Skinny Boy, some weird (copyright 2006!) 'edition' called Skinny Boy 2.0 (lol) available on Spotify. It was the first time either had heard the album, and both were quite blown away by the opening track "Temporary Jones," especially the bass playing, which smartphones quickly reveal is by Terry Kath himself, the only other member of Chicago to appear on the album. On the side-one-closing title track, Lamm's McCartney homage is so strong that Subject A brings up his recent reading of Man on the Run, a book by Tom Doyle on Mr. Paul's career with Wings throughout the 1970s, and how the one album he newly got into from reading the book was Wings' 1970 debut Wild Life. But, instead of the two subjects listening to Subject A's recently acquired and readily available vinyl copy of Wild Life, Subject B shows Subject A something even better: hilarious McCartney spoofs on YouTube, first by PeterSerafinowicz and then by Dana Carvey. (Subject A just now notices, while editing in the third person, that the first three syllables of Serafinowicz's surname are essentially the surname of Danny Seraphine, the drummer for the band Chicago. The name seems to be of Polish/Belarusian descent.)
Finally, it's time to place a record on the turntable, and just like baseball, visitor always bats first; from the record tote of Subject B emerges the Images OST by John Williams and Stomu Yamash'ta. Starring Susannah York, Images is a lesser known Robert Altman film from 1972, perhaps his most sustained psychological thriller (in homage to Polanski's Repulsion?). Apparently the film studio didn't want to bother with a vinyl run for the soundtrack, so Williams did one himself in private-press paste-on style, and it's a great listen, the composer at his spikiest and spookiest, in his suspense/horror style (rather than his more famous and cloying adventure/triumph style), early and raw, augmented dramatically by Yamash'ta's stormy percussion.
Next up, Subject A plays the LP that instigated the whole get-together, when he had texted a photo of the cover to Subject B a month earlier, with the comment "Deep 80s action here, coproduced by Peter Baumann! You should come over and listen to it!" This was Skin Diver by Nona Hendryx which, literally a few minutes after hearing its elegant, haunting, and hovering side-one closer "Tears" on the December 1, 2017 installment of JA in the AM on WFMU, Subject A had purchased a very nice copy of (on Discogs for $1, $6 with shipping). It's a good album, very cold and electronic, with Nona's voice heraldic throughout. (Both subjects are somewhat distracted by the Private Music label itself, speculating that Mr. Baumann may have in fact been a staff producer of sorts, and admiring how the cool label logo is silkscreened right onto the otherwise-generic paper inner sleeve.)
Subject B takes things to some kind of next level with the following selection, a Barbra Streisand LP from 1973 called Barbra Streisand and Other Musical Instruments. On this record, she does a bunch of show tunes and standards as usual, but here in spaceage/exotica/kitsch arrangements inspired by global styles, so we get "I Got Rhythm" as a raga, "Johnny One Note" as a samba, her earlier song "People" with a Turkish/Armenian feel, and so on. There's a cool graphic on the back cover (pictured below) that carefully annotates all the cultures on display, but audiences weren't interested; it remains the worst-selling album in Streisand's entire career. Only the first side is played, but Subject A notes that, given different circumstances, he would like to sit down and pay close attention to the whole thing, though it would require a serious 35-minute commitment as the LP is a rather heavy information overload. (POSTSCRIPT: In blog post-production it is discovered that the LP was essentially the soundtrack release for a 1973 TV special of the same name, which can be viewed in its full glory below, including a 'futuristic' 'noise' 'musique concrete' 'synth' section that runs for a few minutes starting at 19:28.) [Ed. note: this YouTube is no longer available, and has been replaced below by a small excerpt from the TV special.]
Things get even weirder when, post-Babs, Subject B takes it back to YouTube to find a performance of "Alibis," a minor 1980s hit for Sergio Mendes. Subject B had been obsessed with the song ever since hearing it on the pretty darn incredible local radio station Me TV FM (87.7 Chicago). The clip played was a live performance on Solid Gold (embedded below), which threw Subject A "for a loop" (his words) because as a young pre-teen adolescent he had watched the show religiously (it was indeed on every Sunday). Ultimately, despite the Toto-worthy charm of vocalist Joe Pizzulo, Subject A was not quite as obsessed with the song... yet.
Next, Subject A couldn't resist keeping it on Solid Gold for a clip he had just discovered a week earlier: the 14-year-old Moon Unit Zappa expertly lip-syncing her novelty hit "Valley Girl." This is amazing (and this is kind of a bummer, cranky 'Uncle Frank' style... or was he trying to strike a partnership, an ongoing merchandising settlement of some sort?):
And then came the Common One, Van Morrison's still under-known monster LP from 1980, singlehandedly inventing late-period Talk Talk, among entire other cosmoses. A cheap used CD of this album was always in the car stereo as Subject B drove back and forth from the hospital in Cleveland where his ailing father was residing just a few months previous, opening track "Haunts of Ancient Peace" a heavy song for this heavy situation. Subject B texted Subject A a link to the song during one of these trips, and asked him if he knew it, and Subject A did, hipped to it by Twitter friends a year earlier, when he listened, awestruck, to YouTubes of "Haunts." He had almost ordered a cheap copy on Discogs right then, but changed his mind due to initial confusion over track two "Springtime in England," which, despite being 15 minutes long, was decidedly not proto-Talk Talk, in fact a completely differently-styled noontime rambler of a piece. This time, after Subject B's reminder, he listened to "Haunts" again and bought one for $5 on Discogs before the song had even ended. Now that he has the LP, and has spun that devastating first side several times, he loves "Springtime in England" too, a jaw-dropper of a track with Van the Man riffing and roaming all over a fairly small set of great words like "Did you ever hear about Wordsworth and Coleridge?/They were smokin' up in Kendal/By the lakeside/Can you meet me in the country in the long grass/In the summertime in England/Will you meet me/With your red robe dangling all around your body... Did you ever hear about.../William Blake/T.S. Eliot/In the summer/In the countryside/They were smokin'/summertime in England," et al, while the killer band rambles and tambles all over that arcane funky blues jazz groove for the entire running time. Side two is great too!
Oh, but the bombs were not about to stop. Subject B then puts on the record that may have contained the two most stunning tracks of the night. This was the debut album by the group Azimuth, though this particular release may be correctly credited to John Taylor, Norma Winstone, and Kenny Wheeler, with the title of the record being Azimuth. (Subsequent albums by the same trio were credited simply to Azimuth.) The first two tracks made up a nice rarefied chamber-jazz femme-voice atmosphere, but it was the side one closer (also titled "Azimuth"!) that really took things home, a higher-key modular-synth zoner with heavenly multi-tracked Winstone vocals.
For his next turn, Subject A did not play a whole record but instead two tracks, "Morning" by Yusuf Lateef, and "The Brooding Side of Madness" by Joe Strummer. Regarding the former tune, it should serve as a preface that local Chicago radio is a common topic during the record hangs of these two particular subjects. Some of their favorite stations are all very close together, neighbors on the proverbial left of the dial, such as the aforementioned 87.7 MeTV FM, as well as the perennial college stations 88.3 WZRD FM from Northeastern Illinois University, 88.7 WLUW FM from Loyola University, and 89.3 WNUR 89.3 from Northwestern University in Evanston. Earlier in the evening, Subject A had been telling Subject B about driving his two children to school every morning, that the three of them would always listen to WNUR's weekday morning jazz show, the kids quite tolerant of the music, though often vocally objecting to some of the more avant-garde, that is to say noisier, ends of the spectrum, with Subject A's son at one point quipping "No small animals were harmed during the making of this song," and his daughter describing the sound of another track succinctly as "bees and elephants." But, Subject A continues, telling the story in hushed tones as if by a campfire, there was a jazz DJ on WNUR every Thursday morning, and she would start at 7:30AM, right when he and his kids were all getting in their car, and she would always open her show with "Morning" by Yusef Lateef. All three of them grew to love the song, singing along with the unstoppable head melody, Dad turning up the radio as loud as he could during the song's quiet but insistent percussion breakdown, the kids excitedly asking "Is it Thursday??" as they were getting in the car. And then, after three, maybe four at most of these "Morning" Thursdays, the DJ stopped doing the weekly show, and none of them have heard from her since. Subject A started digging in the Yusef Lateef sections of Chicago record stores, and, before too long, found a cheap used 1977 2LP reissue comp that kicked off with the track, and was in fact named Morning, so at this time he gets it out and plays the song.
Next, Subject A gets out his Walker offical soundtrack LP. Besides radio, film is another topic commonly discussed by these particular two subjects, and tonight Subject B brings up his attendance at a recent special Music Box Theater event where Alex Cox's 1987 polemic Walker was screened with the filmmaker in attendance. Subject A says he was kicking himself for missing it, and having never seen Walker at the time, rented a DVD of the film from the Facets Videotheque the very next day and was blown away by it; another brilliant Rudy Wurlitzer screenplay, a stunning performance by Ed Harris as the titular imperialist, a nightmarish overall fever pitch handled very well by Cox. The official score by Clash frontman Joe Strummer seemed like it might be a little too "try-hard Spanish-language revolutionary" for Subject A, but he decided he had to get a copy anyway, partly to commemorate his love of the film, but mostly because of a haunting piano-led track that played throughout the film's apocalyptic city-burning climax and rang in his head for days afterward. This track turned out to be "The Brooding Side of Madness," which Subject A and B listened to three times in a row. The track is frustratingly short on the LP, and Subject A and B agree that they would gladly purchase a LP that had a 20-minute edit of the track on both sides, preferably with sounds of flame and chaos judiciously seeping in from the film itself. (Wait, what? Somebody uploaded a version extracted directly from the film! Over 9 minutes long! I'll take it!)
By this time it was getting late, and these two Beach Boys nerds decided to wind the night down by listening to Subject B's copy of the band's small post-SMiLE masterpiece Friends. Subject B had left this copy with Subject A after their last get-together, as Subject A hadn't really heard the album at the time. Now he was in love with it, especially haunted by the track "Anna Lee, the Healer," until he started waking up in the morning, even weeks after last playing the record, groggily getting ready for work, with that song weirdly blasting in his head with crystal-clear precision. They listen to the whole album again (at only 28 minutes it always goes by fast), and are so struck with "Diamond Head," which should be an album-closing instrumental (we'll blame eternal scapedouche Mike Love for unwisely tacking the unfinished-sounding novelty PSA fragment "Transcendental Meditation" on at the very end... "Her Majesty" it is decidely not), inspiring a last-minute pull of Subject A's Pet Sounds copy, so that its two instrumentals can be revisited as well, "Let's Get Away for a While" and the title track, sounding just as sweet as ever. By now it's 1AM, everybody's a little drunk, and here in Chicago's very own hip little seedy beach town (aka the Rogers Park neighborhood), what better songs to end it on than wistful beach town sunset instrumentals, by the greatest beach and sun band in the history of music, the Beach Boys themselves. Good night!